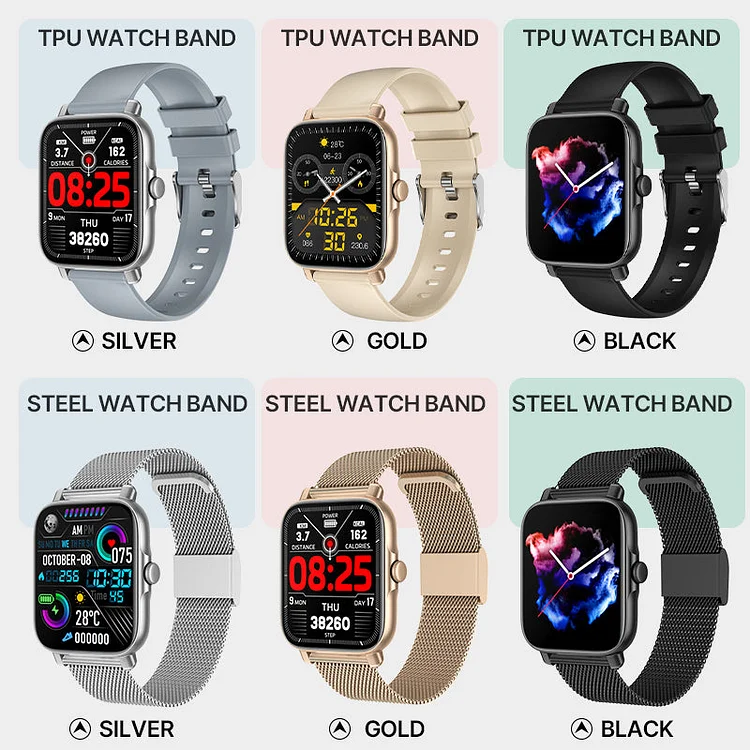 Description
This 1.69" HD Full Touch Screen Health Monitoring Waterproof Bluetooth Sports Watch is the perfect choice for anyone looking for a stylish and functional fitness tracker. It features a full HD display, a touch screen, and a waterproof design that makes it perfect for outdoor activities. The watch also has a built-in heart rate monitor, step counter, and sleep monitor to help you track your health and fitness. It also has Bluetooth connectivity so you can easily sync your data with your smartphone. With its sleek design and powerful features, this watch is the perfect companion for any active lifestyle.
Features
1.69-inch HD full screen
Equipped with a 1.69-inch high-definition full screen and super retinal display for all day, you can easily view all the content on the dial without raising your wrist to wake up the watch.
Fashionable and lightweight
The high-quality zinc alloy metal body, with a thickness of only 11.3mm, has been repeatedly polished through multiple processes, combined with a 2.5D curved glass design, creating a flawless and lightweight watch case with flexible light and shadow flow.
Health monitoring&sleep monitoring
Built in high-precision optical heart rate sensor, combined with intelligent heart rate algorithm, it can accurately monitor one's heart rate and blood pressure data at any time, deeply track the health level of the heart, and reduce the probability of unexpected risks. In addition, it can also monitor your deep and shallow sleep, generate sleep time data on the APP, analyze your sleep quality, and easily grasp healthy sleep.
Multiple dial switching
The watch is equipped with a variety of exquisite dials with different styles, as well as an APP dial push function. With over 200+ dials available for download, it can be easily switched, and there are also customizable dials to choose from.
IP67 waterproof
Fully enclosed structure, achieving IP67 waterproof technology, easy to handle daily waterproofing, supporting hand washing, rain exposure, etc., to meet your various waterproof needs in daily life.
Bluetooth dialing&answering calls
A quick dial panel that allows for quick phone calls and timely push of incoming calls to your watch. As long as you wear it, you can stay in touch with those you care about and never miss out on important things.
Instant messaging push
Facebook, Twitter, and other apps can directly push messages to the watch, and you will be reminded through vibrations. You don't need to unlock your phone, you can view it with your hand up.
Multiple Sport Modes
Providing a variety of professional sports mode options, whether it's daily running, cycling, rope skipping, or mountain climbing, this watch can record your steps, distance, calories, exercise time, and heart rate data. It will analyze complete data to help you exercise more healthily and reasonably.
Ultra low power consumption, longer endurance time
Equipped with a 180mAh battery and a magnetic suction type powerful fast charging, and it also be optimized power consumption and greatly enhances the watch's endurance time, freeing you from the hassle of frequent charging.
Support for multiple languages
It supports English, Simplified Chinese, Italian, Portuguese, Polish language, Spanish, French, Greek, Persian language, Hungarian language, Czech language, Russian, Turkish language, Dutch language, German, Thai, Vietnamese language, Indonesian, Malay language, Filipino language, Arabic, Finnish language, Ukrainian language.
Specifications
Watch size: 49.6 * 40 * 11.3mm
Weight: 30.2g
Colors: black, silver, gold
APP: HryFine
Compatible systems: Android 5.0 or above, IOS 9.0 or above
FLASH memory: 32M
Screen size: 1.69 inches
Pixel: TFT 240 * 280
Touch type: full touch screen
Battery type: polymer lithium battery
Battery capacity: 3.7V/180mAh
Charging method: magnetic suction charging
Waterproof grade: IP67 waterproof
Charging time: 1.5H
Range: 7 Days
Wrist strap size: total length 249 (204) mm, width 20mm
Appearance material: zinc alloy+ABS