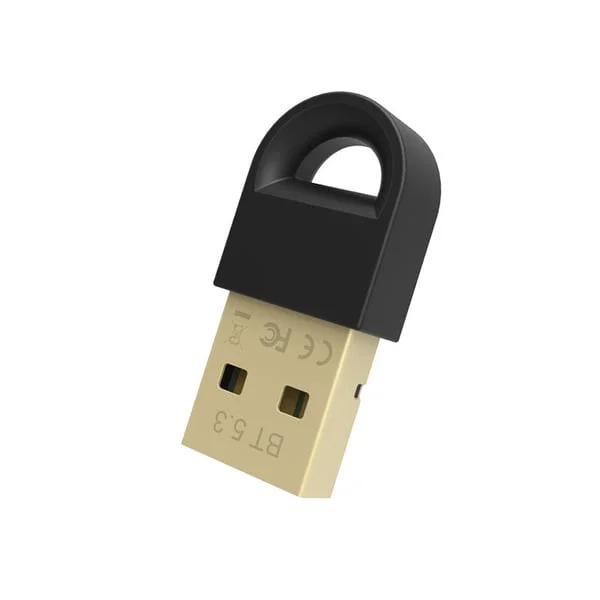 True Bluetooth version 5.3, plugged into the device to use
【Supported OS】No Driver Required, Compatible with Windows 11/10 / 8.1, NOTE: not Support Windows 7/ Mac os/ Linux.
【BLUETOOTH 5.3 DONGLE】Applies the latest Bluetooth 5.3 usb adapter, Bluetooth low energy. Compatible with Bluetooth V 5.2 / 5.0/ V4.0 / 3.0 / 2.1 / 2.0 / 1.1.
【FAST AND FURTHER】Fast and further working distance than Bluetooth 5.0 Supports headphones, headsets, keyboards, mice, and more. transmission distance up to 100m in open space. (NOTE: Operation range can be affected by physical obstructions and wireless interference).
【Wide Compatibility】Supports various protocols such as GAP, A2DP, HID OVER GATT, HSP, AVC, HFP, and FTP.
【Multiple Connections Possible】Supports simultaneous connection of 5 bluetooth devices. Install the Bluetooth function on your PC. Supports devices such as Bluetooth earphones, Bluetooth speakers, Bluetooth keyboards / mice, Bluetooth printers, Bluetooth game handles, smartphones, tablets and more.
【Audio Transmission Support】The Bluetooth 5.3 adapter supports audio transmission and supports APTX/ AAC/ SBC. (Note: You cannot use multiple audio devices at the same time. The audio device connection is only one-to-one).
HOW TO USB
Specifications
Product name: 5.3 bluetooth adapter
Product size: 30 x7x15mm
Packing size: 133 x75. 5 x15mm
Bluetooth version: 5.3 (LMP12.513)
Frequency range: 2.4 GHz (2402-2480 MHz)
BT profile: A2DP/HSP/AVRCP/HID/PAN/GAVDP/DID/IOPT
Transmission distance: 0-20 m
Rated voltage: DC 5 V
Interface type: USB
Compatible systems:Windows 8.1/10/11
Product name:Bluetooth adapter 5.3 (100 metres)
Product size:180 x18 x 12 mm (antenna)  / linear141.9 x57x12mm antenna (90 degrees)
Bluetooth version:5.3
Frequency range:2.4 GHZ (2402 - 2480 MHz)
Transmission distance:0-100 M
Rated voltage: DC 5 V
Interface type: USB
Compatible systems:Windows 8.1/10/11
NOTES
The product is plug-and-play. No driver needs to be installed.

The product only compatible with Windows 8.1/10/11(32/64-bit).Do not apply it to other systems.

It is recommended that no more than five BT devices (likemouse/keyboards/game controllers/speakers/headsets,etc)should be connected and used at the same time.