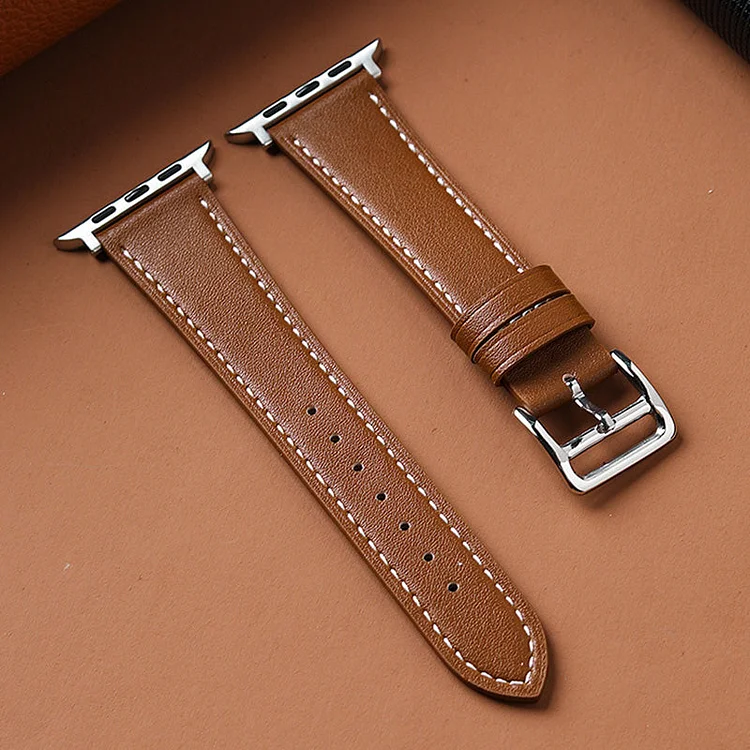 Looking for a stylish leather watch band for your Apple Watch?
Look no further than our Leather Watch Band, compatible for Apple Watch 38mm 40mm 42mm 44mm 45mm 49mm! Our watch bands are crafted with the highest quality leather to provide you with a stylish, comfortable and durable accessory for your Apple Watch. Choose from a variety of colors and styles to find the perfect watch band to fit your style.
Features
High Quality Material - Leather watch bands are a popular choice among watch wearers due to their high quality material and durability. The leather is tough and wrinkle resistant, meaning it will not easily deform over time. It is also waterproof, breathable and sweat resistant, making it suitable for all kinds of activities. The leather strap is held in place with a metal connector, ensuring a secure fit.
Easy to Install - The metal connector is perfectly connected between the watch and the strap, which can lock the watch firmly and safety. Perfect design saves your time that makes it fast and simple to install and replace your watch band.
Compatible Size - As a secondary or replacement strap,it is Compatible with Apple Watch 38mm 40mm 42mm 44mm 45mm 49mm. Please confirm and choose correct watch band before order. Note:The watch is not included.
Stylish Simple Design - High-end replacement watchband with classic look,it is suitable as a special gift for family and friends for birthdays, Christmas, Valentine's Day, Thanksgiving Day, or holidays. Sweet daily gifts can accompany them every day.
Specifications
Color: Brown, Black, Orange, Red
Watch band material: leather
Connector size: 22mm
Size: 38/40/41/42/44/45/49mm