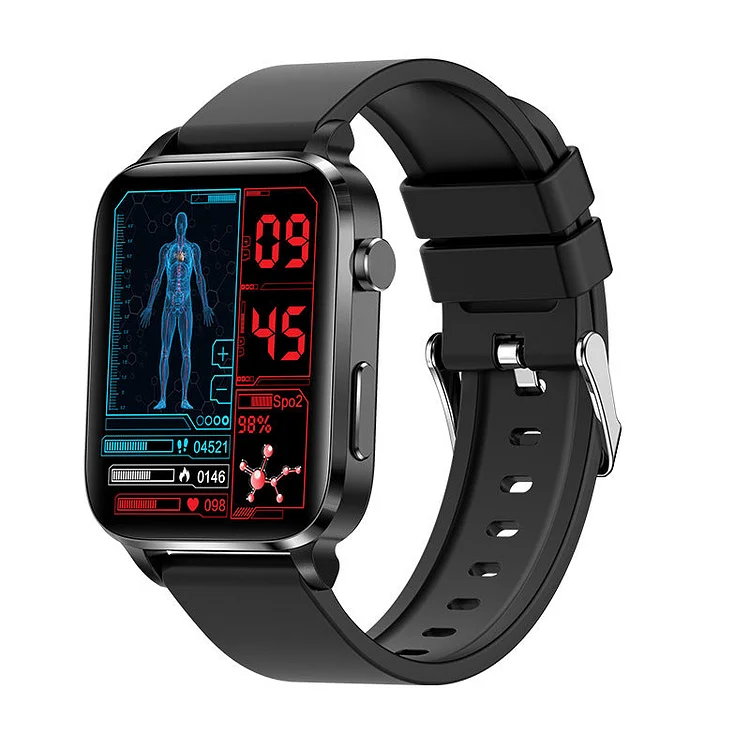 Discover a Faster, More Effective Way to Treat Diabetes at Home
For those who live with diabetes, constant monitoring of blood sugar levels is essential to maintaining good health. However, traditional methods of testing often involve painful finger pricks. Our watch can truly measure your blood sugar painlessly, freeing you from painful blood sugar measurements.
 Features
Remote family health monitoring
You can add monitoring data for your family, use a watch to protect your family, and support remote viewing of their monitoring data.
Laser health therapy for hypertension, hyperglycemia, and hyperlipidemia
The 650nm wavelength released by a laser probe promotes enzyme reaction, increases oxygen carrying capacity, reduces blood viscosity, and facilitates smoother flow.
Pay attention to your health
This product always pays attention to your heart rate, blood pressure, body temperature, sleep statusand and blood oxygen index, displays the measurement results directly on the watch, synchronizes to the mobile phone APP, and keeps an eye on your physical condition.
Multiple sports modes
There are multiple sports modes available, and you don't need to add them to your phone. You can directly wear a smartwatch to exercise, and all your sports data will be recorded in the smartwatch.
Rich wallpapers choices
Connect your phone and use the app to add a large number of dial wallpapers, allowing you to choose and quickly switch between your favorite dials. You can also customize your favorite photos as the dial.
Long-lasting battery
A fully-optimized battery provides up to more days of battery life. Get rid of the anxiety brought on by constant charging. The 200mAh battery is ready to power you through up to 1 week of activity.
Daily life assistance functions  
The message, call, weather, stopwatch, alarm clock, long-sitting reminder, and other situational intelligent reminders to better master the rhythm of life.
IP68 waterproof
This product combines excellent design and exquisite craftsmanship, making it safe to wear during daily hand washing, rain, etc.
Specifications
Type: 8 options available
Screen resolution: 280 * 280
Waterproof grade: IP68 ​waterproof
Laser: dual probe 650nm laser
Compatible systems: Android 4.4 and above, iOS 8.2 and above
Screen size: 1.70 inch full touch screen
Screen type: IPS high-definition TFT
Bluetooth: 5.0BLE (low power consumption)
Battery type: high-density polymer lithium battery
Battery capacity: 200mAh
Charging method: magnetic suction charger
Charging time: approximately 3-4 hours
Battery life: 5-9 days of use, 30-40 days of standby (data from factory laboratories may vary depending on personal usage environment and process)
Control method: Full screen touch control, mobile app control