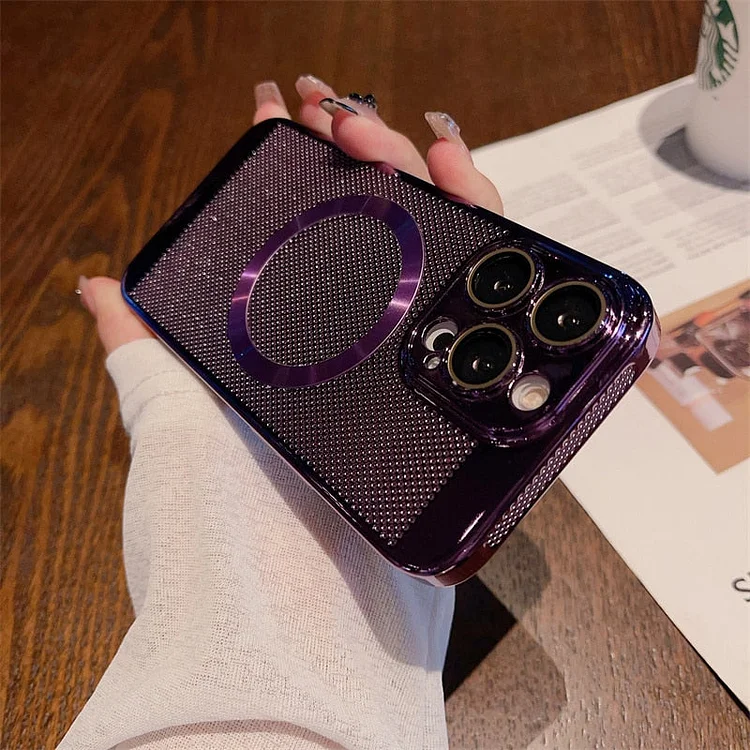 Keep your phone cool with this ultra-thin PC case for iPhone. Its heat dissipation technology ensures your phone won't overheat, even during extended use, so you'll never worry about "hot hands" again. It's the perfect combination of protection and convenience.
About the Design
Crafted from high-quality electroplated materials, the elegant silhouette is designed to bring long-lasting stylish style and a slim grip to any occasion. The gradient feeling of the material adds an extra touch of elegance and sophistication to the design.
Corning Glass Lens Protection
The 8K high-definition independent explosion-proof lens protection cover has advanced impact and anti-scratch protection functions to protect the lens from scratches. Long-term use will not affect the photographic quality.
Excellent Heat Dissipation
Innovative cooling vents help reduce surface temperature, providing superior protection and temperature regulation for your phone. It keeps the temperature better no matter how long your phone is working.
Magnetic Absorption:This iPhone Mag-Safe case has built-in 38 powerful small magnets with a maximum suction force of 15N, better than the official 25% suction power! Ensures a secure connection with all MagSafe-style accessories and instant real power. The precisely aligned design achieves a 1:1 maximum output for fast and safer charging.
Reason For Choice
Luxurious comfort and timeless appeal
8K High-definition Independent Lens
Full Coverage of Cooling Holes
Anti-fouling, waterproof and scratch-resistant coating
Thin as 0.4mm
Package Includes
1 x iPhone Case
All products on the website are not from the official brand; the trademarks of all products on the website belong to their copyright owners, and the website is only used for representation.
Indicates the objects for which the product is applicable. If the copyright owner has any objection to the use of the website, you can contact the website for processing.