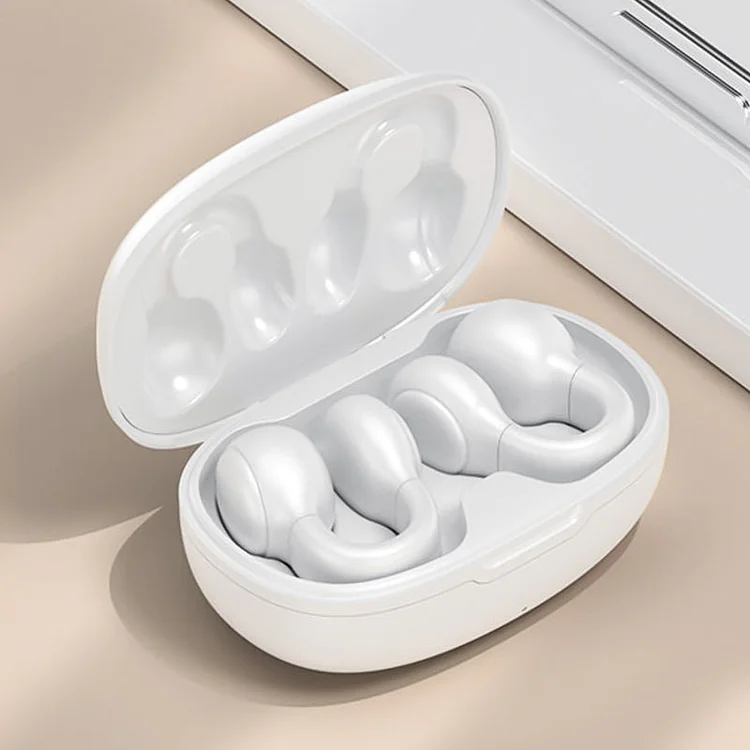 Feature
Earphone design without earache
Comfortable design based on ergonomics. The wireless ear-clip Bluetooth sports earphones will not cause your ears to feel swollen and painful if you wear them for a long time. The design is novel, comfortable to wear, painless, and can be used regardless of the size of the ear.
Bluetooth 5.3 & HIFI sound quality
Wireless Ear-Clip Bluetooth Sports Earphones, equipped with the latest Bluetooth 5.3, provide you with a HIFI sound quality and a holographic soundtrack. The moment you put on your earphones, it feels like you're in a big concert, and the enveloping sound of every aspect has never been so pleasing to the ear. Moreover, it's as stable as wired earphones, which further improves communication efficiency and anti-interference, reduces power, and makes connections more stable.
HD noise elimination call
The dual microphone design with ENC noise elimination function enables clear calls just like a face-to-face conversation. The wireless ear-clip Bluetooth sports earphones have the function of automatic noise reduction for binaural communication, enabling clear stereo surround sound. Waterproof and sweat resistant, do not worry about injury caused by sweating.
High capacity battery
Wireless Ear-Clip Bluetooth Sports Earphones are the perfect choice for sports enthusiasts. It can provide breakthrough long-hour battery life with its high-capacity battery and adopting low-power micropower technology. It is suitable for most environments, meeting the needs of listening and exercising.
Mini size & portable, intelligent touch control
wireless ear-clip Bluetooth sports earphones are small and compact. It is smaller and more convenient, and it is safer to travel. Music control, telephone answering/disconnecting, simple touch operation. Built-in earphone hole switch that does not block ears, opens the cover for pairing and carries universal Bluetooth corresponding to various devices.
Directional sound transmission technology
Wireless ear-clip Bluetooth sports earphones, equipped with directional sound transmission technology and a built-in leakproof sound filter element, offer you an immersive sound experience even when your ears are blocked.
Fully compatible
Wireless Ear-Clip Bluetooth Sports Earphones are fully compatible with Bluetooth devices such as mobile phones, desktops, tablets, laptops, etc. It also supports Windows, iOS, and Android operating systems.
Specification
Bluetooth version: V5.3
Battery capacity: 480 mA
Usage time: approximately 5-6 hours
Transmission distance: obstacle free 10 meters
Charging time: 1 hour